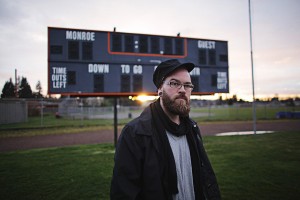 Ryan Abeo, the heavily tatted, bearded, and pierced MC best known as Ra Scion of Common Market, is one of the most visible figures in local hip-hop. But when he takes the stage as his new persona, Victor Shade, he transforms from the socially conscious, rhyme-spitting Common Market frontman into a cape-wearing, world-saving superhero.
Sounds cheesy, yes. But like everything Abeo has done in the past, his Victor Shade project is serious, and it is layered with lyrics containing dual meanings that tackle weighty subjects like drug use, suicide, and spirituality.
Unfortunately, like every good superhero's back story, Victor Shade's tale begins with a tragedy. The concept of Victor Shade came after Ra Scion's brother-in-law Jimmy, who was a comic book collector, committed suicide.
Before his death, Jimmy created a list of friends and family members and gave them all superhero identities complete with a detailed breakdown of why he thought the superhero was appropriate for each person. Abeo's superhero was Victor Shade, an android that is a member of a collective called The Avengers, and Abeo decided to make Victor Shade into a hip-hop tribute to his fallen family member.
"Shortly after his death I started doing some research into the comic book character The Vision, and I was amazed at some of the similarities I found between his characteristics and my own," Abeo said. "It really made me think Jimmy put a lot of thought into this process, so this project is like an homage to him."
The biggest challenge for Victor Shade going forward will be forging an identity for the project beyond Abeo's ties to Common Market. It's a tough task, considering both acts put the unmistakable Abeo front and center — and Common Market has long been a staple of local hip-hop. Luckily there are distinct sounds that differentiate Victor Shade from Common Market, courtesy of local producer Matthew Crabtree, who does production under the name MTK. Continue reading →