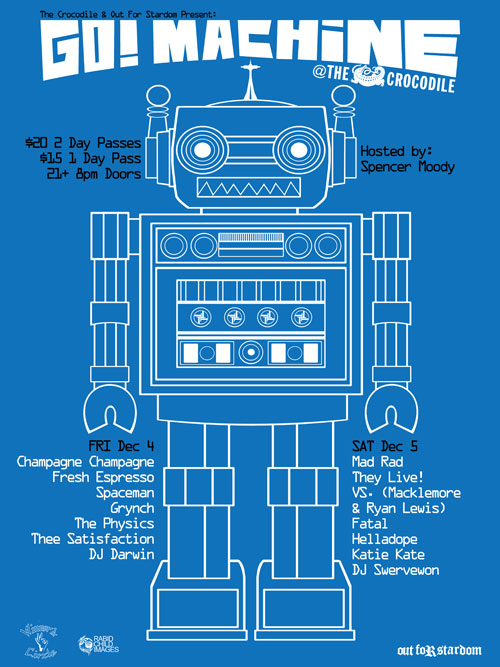 Go! Machine, the two-day local hip-hopstravaganza that featured more than a dozen of the hottest hip-hop acts in Seattle at the Crocodile last year, won't be back for an encore performance in 2010.
When reached for comment, Kerri Harrop, former manager of Mad Rad and PR point person for the Crocodile, said the event was cancelled by the event's organizer Greg Smith, aka Out For Stardom's Terry Radjaw, due to difficulties with booking Go! Machine.
Harrop had this to say when asked about the cancellation:
"The Crocodile put forth the option of consolidating it to one day, in order to facilitate the acts confirmed to date and keep the event alive, but he passed. We hope to see Go Machine come back in the future.
We are definitely disappointed in his decision, it was one of our favorite events of 2009, and certainly a good look for the city."
Go! Machine 2010 was scheduled to take place Dec. 3 and 4.
When reached for comment Smith said he wasn't comfortable promoting a show he wasn't 100 percent sure about, so he decided to call it off.
"Go! Machine didn't happen this year because it wasn't going to be what it needed to be. If this machine's gonna go, it's gonna go on it's own," said Smith. "I'm not going to force something that isn't there."
Although the cancellation is due to difficulties booking acts, it makes you wonder whether the local hip-hop scene reached its high water mark last year when acts like Mad Rad, Grynch, Fresh Espresso, They Live Mash Hall, Champagne Champagne and others has career years. Those successes all translated into big 2010s for the aforementioned artists, but from an outsider's perspective it feels a little like there isn't as much mainstream buzz around the local hip-hop community today as there was this time last year.
Another thing to consider when it comes to the booking angle is that there's already a pretty big local hip-hop showcase happening Oct. 20 at the Paramount featuring Mash Hall, Macklemore, Fresh Espresso and Blue Scholars as part of the City Arts Fest. All of those groups are prime Go! Machine material, so perhaps having them all on the same bill six weeks before this year's scheduled Go! Machine threw a wrench in things.
I'd argue that while this year doesn't seem as massive as last year for local hip hop, there are still lots of big things happening in the scene to merit another go-round for Go! Machine but unfortunately there isn't enough to make it "go on it's own" as Smith indicated.
Yes, over-saturation and over-exposure is possible, but fresh and hungry artists like Sol and Helladope are having big enough years to land on a Go! Machine bill. Throw in an appearance by Mad Rad or Fresh Espresso (maybe both?) and you're off to a good start for a solid bill. Also, if you consider Shabazz Palaces is more or less getting ready for world domination with their signing to Sub Pop, well there's your headliner. Of course, talking about booking Shabazz Palaces and actually booking SP are two different beasts just like talking about booking Go! Machine and actually booking the show are distinctly different tasks.