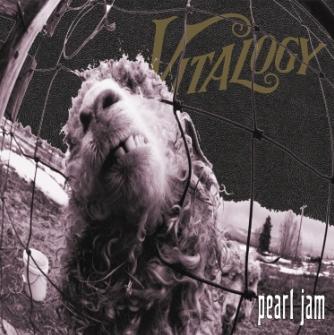 Pearl Jam finally revealed the details of the reissues of two of its classic records, Vs and Vitalogy, this morning and the details are enough to make any fanboy yell out "Holy Yellowledbetter" with glee.
The reissues will hit stores March 29 in various formats, similar to what the band did with the reissue of its seminal debut Ten.
The limited-edition boxed set, which is what every respectful Pearl Jam fan should be purchasing, will set you back $150. It contains five LPs, including a double-LP of Vitalogy, single LP of Vs and a double LP of the band's 1994 concert at the Orpheum Theatre in Boston. Four CDs –including remastered versions of Vs, Vitalogy and two-disc set of the Orpheum concert — a cassette tape of the band's 1995 Monkeywrench Radio show, a composition notebook of drawings and other materials from Jeff Ament and Eddie Vedder, lithographs of the band and an envelope of memorabilia are also included in the limited-edition boxed set.
Pre-orders of the limited-edition boxed set are being done over at pearljam.com and the preorders include a digital download of six songs from the Orpheum Theatre show that aren't available on the LP or CD versions of the show. The Orpheum concert is one of my favorite live Pearl Jam recordings (I'm listening to a boot of it right now) because it has such a varied setlist and it's one of those great shows that captures the band in its prime. Here's the setlist from Pearl Jam's website:
Oceans
Even Flow
Sonic Reducer
State Of Love And Trust
Hard To Imagine
Immortality (Hey Hey My My)
Go
Animal
Glorified G
Daughter (Suck You Dry)
Alone
Not For You
Better Man
Rats
Blood
I've Got a Feeling
Encore

Release
Tremor Christ
Once
Fuckin' Up
Dirty Frank
Yellow Ledbetter
Jam
Rearviewmirror

Here are the full details of all the versions of the Vs and Vitalogy reissues from the press releass:

1. Expanded Editions (CD and Digital)

The expanded editions of Vs. and Vitalogy — including the original studio albums, newly remastered, along with album-era bonus tracks — will each be available on CD and digital formats:

· The Expanded Edition of Vs. includes three bonus tracks recorded by Brendan O'Brien at The Site studio during the Vs. sessions:

– a previously unreleased acoustic version of "Hold On";

– "Cready Stomp" – a previously unreleased studio outtake;

– and the band's cover of Victoria Williams' "Crazy Mary" featuring Williams on backing vocals and guitar.

· The Expanded Edition of Vitalogy includes three bonus tracks:

– the previously unreleased guitar/organ-only mix of "Betterman";

– a previously unreleased alternate take of "Corduroy" from the Vitalogy session (recorded by Brendan O'Brien);

– a previously unreleased demo version of "Nothingman," taken from the original DAT (recorded at John and Stu's in Seattle on October 14, 1993, featuring Richard Stuverud on drums).

2. Deluxe Editions (3 CDs or Digital Download Bundle at Various Digital Service Providers)

· Deluxe Edition CD version – Vs. and Vitalogy will be available together in a CD deluxe edition which includes:

– the Expanded Edition of each album;

– a copy of Live at the Orpheum Theater, Boston, April 12, 1994. A special performance recorded at the tail end of the mythic Vs.tour, Live at the Orpheum Theater showcases a dream setlist created especially by the Pearl Jam crew and has for years been one of the most sought-after recordings among serious aficionados.

3. Limited Edition Collector's Box Set (5 LPs, 4 CDs, 1 Cassette, Digital Download, Composition Notebook, Memorabilia-filled Envelope)

Vs. and Vitalogy will be available together in a limited edition collector's box set that includes 59 unique Pearl Jam performances on four CDs, five LPs and one cassette in addition to a number of guest artist performances. The Limited Edition Box set is only available for sale at pearljam.com.

Contents include:

· Expanded Editions of Vs. and Vitalogy remastered with bonus tracks on CD;

· Remastered Vinyl Editions of Vs. (single LP) and Vitalogy (double LP);

· Double vinyl LP and CD of Live at the Orpheum Theater, Boston, April 12, 1994 plus an exclusive digital download of the concert. A special performance recorded at the tail end of the mythic Vs. tour, Live at the Orpheum Theater showcases a dream setlist created especially by the Pearl Jam crew and has for years been one of the most sought-after recordings among serious aficionados;

· Exclusive collector's cassette featuring live tribute and studio performances from a number of Pearl Jam's fellow artist friends. Broadcast on January 8, 1995, this recording is part of the legendary Monkeywrench/Self-Pollution Radio series produced by the band;

· 80-page composition book filled with photos, drawings and artwork by Eddie Vedder and Jeff Ament;

· A glassine envelope containing a collection of Vs. and Vitalogy- era memorabilia including beautiful lithographs of each band member, postcards, posters and much more.

4. Record Store Day Vinyl Editions (Remastered) – Available April 12th

Vs. and Vitalogy will be available at independent record retailers in new commemorative Vinyl Editions on April 12th in time for Record Store Day 2011 (April 16th).

· Vs. (single LP) and Vitalogy (double LP) – both remastered

Elderly Woman Behind The Counter In A Small Town