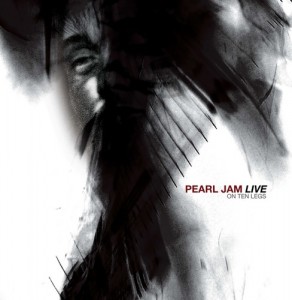 Pearl Jam's Live on Ten Legs, an 18-track compilation of live recordings from the band's 2003-2010 tours, is a mixed bag of triumphs and missed opportunities.
One one hand it succeeds in showcasing some of the strongest material from the band's second decade of existence. On the other hand the collection doesn't add much to the band's catalog and some of the versions of the songs for the setlist are questionable.
Live on Ten Legs release marks a busy year of activity for the band which will see Cameron Crowe's Pearl Jam Twenty documentary hit theaters, the reissues of Vs and Vitalogy, a multi-day festival curated by the band and the promise of several surprise appearances. It's a good start for the band's twentieth year and its message seems to be that Pearl Jam has no intention whatsoever to slow down as it heads towards its third decade.
The record is the successor to 1998's Live on Two Legs, which captured the band's 1998 tour. However, those expecting to get the1998 version of Pearl Jam from this album should look elsewhere. Live on Two Legs, which is by far the superior album, features a tracklisting of aggressive and angsty material from Pearl Jam's prime. The songs featured on this album show a more mellowed and mature Pearl Jam, which isn't a bad thing, and gives the lesser-educated fan a sense of the direction the decided to take during the 2000s. There isn't a single song that appears on both live compilations, which means if you put them both together you get a pretty solid sampling of live recordings without having to go all fanboy and dig through the band's exhaustive selection of official bootlegs.
Considering that the band made soundboard recordings of all of its shows that took place during the period Live on Ten Legs captures, this should be the ultimate live album by inarguably one of the best live acts in modern rock. Unfortunately this album doesn't quite convey all the energy and emotion of Pearl Jam concert. That's not to say it doesn't shine in some places, it's just a bit inconsistent and not as quintessential a Pearl Jam record as it could be.
Live on Ten Legs gets off to a promising start with a cover of Joe Strummer & the Mescaleros' "Arms Aloft," a song the band performs so well it could almost pass as a Pearl Jam original. Other standouts include the fierce one-two punch of "Animal" and "Got Some" and a tremendous version of "Rearview Mirror," a song that always stands out in a live setting. The album hits its peak about midway through with "Nothing As It Seems" followed by "In Hiding," which is about as close as Live on Ten Legs gets to giving off the visceral vibe of experiencing the band live.
Elsewhere on the album Eddie Vedder snarls out a mean cover of PIL's "Public Image" but doesn't stack up to the effectiveness of the previous Joe Strummer cover and "Just Breathe," Pearl Jam's most beautiful song since "Black," nicely evens out the tempo but would've fit better elsewhere in the tracklist because it is a bit of a momentum killer. And while "Jeremy" will appeal to all the fans who stopped paying attention to music the day they bought their first Hootie and the Blowfish album, for most fans it's a worn out cliche of a song.
Strangely "State of Love and Trust" and "Porch," two other Ten-era staples, sound tired and a bit lifeless and lack their typical pop and vigor. Maybe I'm being too harsh of a critic here because I'm a fan, but I know I've seen a few better performances of those songs in person during the past decade. So why not include those versions since soundboard recordings of those shows are available?
Speaking of those soundboard recordings, any die-hard Pearl Jam fan likely owns at least a few of the official bootlegs the band sells on its website (I personally own 20 live Pearl Jam recordings, some official others not) which doesn't make this much of a must-have for the hardcore Pearl Jam fan. But for the casual fan who stopped paying attention to the band after the grunge blitz of the 90s this album serves as a fantastic primer for what the band has been up to since Doc Martins and flannel stopped being fashion statements. Ultimately the emphasis on newer material and the inclusion of alt-rock classics like "Alive," "Animal" and others makes this a worthy entry into the Pearl Jam canon, but don't expect to be blown away by anything the album offers if you're a big Pearl Jam fan because chances are you already have better live recordings in your collection.