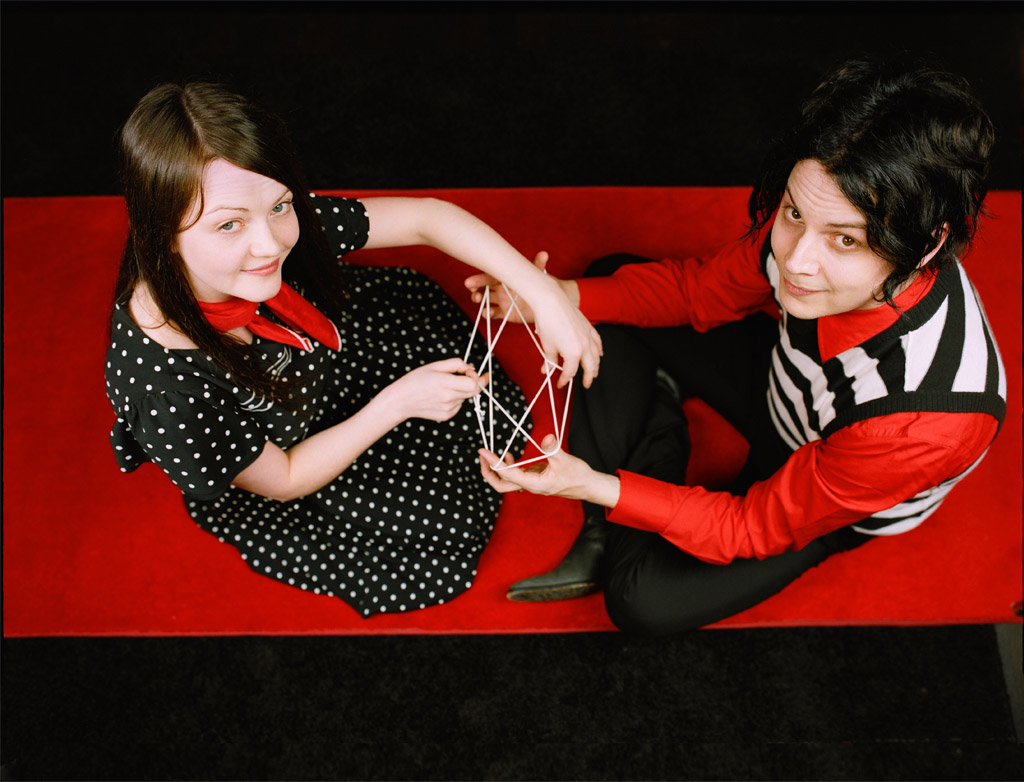 The White Stripes announced their breakup yesterday morning. This is something most diehard Stripes fans probably saw coming since the group has been on hiatus for several years and Jack White has been busy playing with the Raconteurs and Dead Weather as well as heading his own record label.
I was lucky enough to see the White Stripes perform a few times prior to their huge successes so I have a couple of fond memories of the band. The first thing that always comes to mind when I think of Jack and Meg White's band is when I won passes to see them perform for a crowd of 50 or so people at Glenn Sound Recording Studios back in 2001 when White Blood Cells was first released.
My wife and I arrived late which meant we had to sit on the floor five feet in front of a stack of amps and seconds after we sat down Meg walks into the room and sits behind her kit. Jack followed a short while after and before beginning he glared at the crowd and said something along the lines of:
"Listen up kiddies, if any of you talk during Meg and I's performance we'll stop. So shut up."
He then proceeded to break into "Dead Leaves and the Dirty Ground" and for the next 25 or so minutes I pretty much sat on the floor in a state of intimidation while my mind was blown by one of the most amazing rock guitarists on the planet. To this day I get goosebumps whenever I hear the recording from that set on The End.
My second fond memory of the White Stripes comes from my second assignment for the Seattle Post-Intelligencer. I had recently completed my first assignment for the P-I, which was covering a Radiohead concert (I know, I am a very luck guy), and to my surprise my editor called me up and we had this conversation:
Editor: "Do you know anything about this band called The White Stripes?

Me: "Sure."

Editor: "Some younger staff members here think we should cover their concert. Are you up for it?"

Me: "Definitely."
So on Sept. 16, 2003 I went to review the White Stripes at the crappy venue that was the Exhibition Hall (it is now the crappy venue known as WaMu Theatre) and once again I was amazed by the magic that is Jack White playing guitar. A small band called the Yeah Yeah Yeahs opened and unfortunately because I was working for a newspaper and was working with limited space to write, I didn't include anything about their set. Also, it was only my second assignment and I didn't want to press my luck by spending space on the opener.
Here's my review of the White Stripes 2003 tour stop in Seattle:
Detroit blues-punk group The White Stripes, known for its garage rock simplicity and its affinity for red and white, brought a mixture of grass-roots rock and down-home blues during its performance at Seahawks Exhibition Center.

The band defies traditional rock band logic, forgoing a bass player, consisting only of drummer Meg White and her former husband, Jack White, as vocalist and guitarist. This minimalist approach works well for the band, which has received much critical acclaim.

The duo — Jack wearing red pants and shirt, Meg in a white shirt with red pants — received roaring applause when they took the stage, which was decked out in the band's colors, complete with a red-and-white drum kit and a red Jesus figurine on top of a red-and-white amplifier.

Like the peppermint candy from which the band takes its name, The White Stripes gave a cool and sweet performance, playing a set that mixed cooler, bluesy numbers such as "Little Bird" with sweet and sincere songs like "We're Going To Be Friends."

The set began with the brooding introductory notes to "The Hardest Button to Button," from the band's latest album "Elephant."

Jack's black, moplike hair dangled in front of his face, covering his eyes and ghostly pale com- plexion while he sang and played guitar.

Strobe lights flickered during "Seven Nation Army," a song that, if you listened hard enough, you'd swear Jack was playing bass, and the crowd sang along and danced to the up-tempo, hillbilly foot-stomper "Hotel Yorba."

The loudest applause came during "In the Cold, Cold Night" when Meg stepped out from behind the drum kit to sing. Her humble vocals provided a pleasant contrast to her ex-husband's nasally voice.

This was one of the first performances since Jack broke his left index finger in three places in a car accident in July. Jack didn't seem to be affected by his injury, making his guitar shriek and squeal on command.

Jack effortlessly blazed through songs such as the fast and furious "Fell in Love With a Girl," a cover of Son House's "Death Letter," and a shortened version of the bluesy "Ball and Biscuit," one of the duo's most brilliant songs, which unfortunately did not translate well live due to its abridged length.