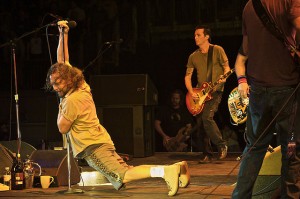 Looks like the first small details of how Pearl Jam plans to celebrate its 20th anniversary next year (outside of releasing a live album) are beginning to slowly be revealed.
According to the band's longtime manager Kelly Curtis the band is planning a festival to be held "somewhere in the middle of the country" during the summer of 2011.
Curtis mentioned the news of a Pearl Jam festival on Pearl Jam's Sirius/XM Radio program. Unfortunately he did say the festival is being planned for a location that is not Seattle. However, knowing Pearl Jam and its love for its hometown there will be some celebrations happening locally. Hopefully that means something similar to this pipe dream of a festival proposed by a member of the Ten Club message boards.
While no details of the festival are known, one thing is for sure: 2011 will be a big year for Pearl Jam.