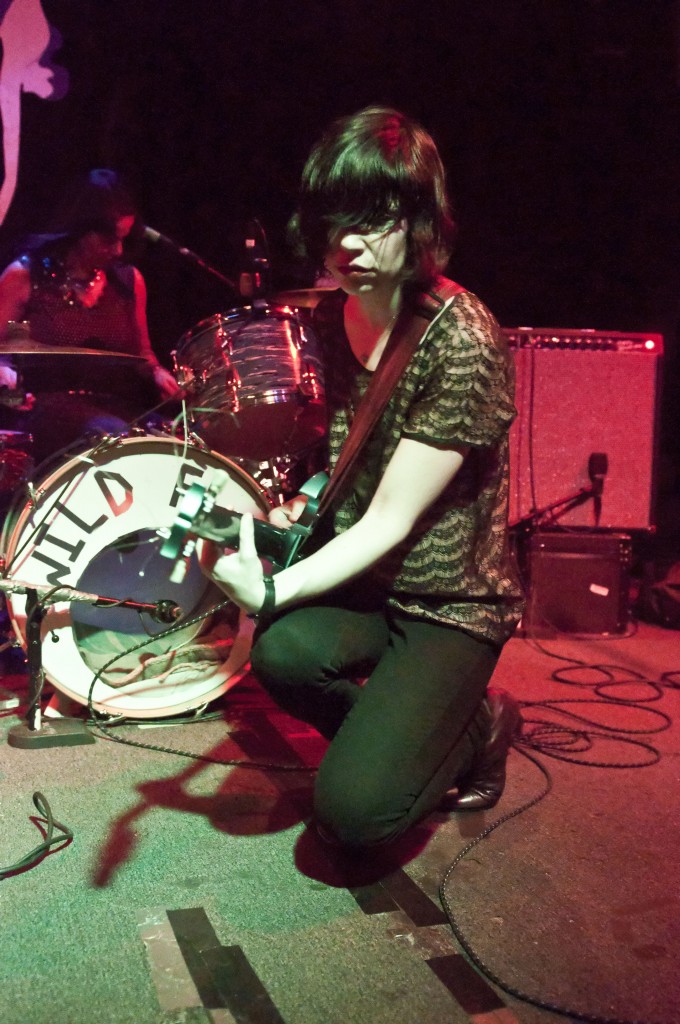 Friday night Wild Flag, the practically newborn band consisting of former Slater-Kinney, Helium and Minders members, gave one of its first public performances and to say I was impressed is an extreme understatement. I left the show with two immediate thoughts:
1) I can't wait to hear the band's debut album
2) I can't wait to see Wild Flag live again
The band, featuring S-K's Carrie Brownstein and Janet Weiss on lead guitar and drums respectively, Helium's Mary Timony playing rhythm guitar and The Minders' Rebecca Cole on keys, played an hourlong set of blistering rock that received an overwhelmingly positive response from the sold-out crowd considering few in the audience had heard any of the group's music.
Since the band consists of two-thirds of Sleater-Kinney the comparisons to the band named after the road off exit 108 will be aplenty so allow me to go there: Wild Flag's songs are bit more restrained and less urgent than Sleater-Kinney and most contain a catchy big rock feel giving them an edge Sleater-Kinney didn't have until later in their career. More simply put, Wild Flag is more rock and less punk whereas Sleater-Kinney is the opposite.
Although the members of Wild Flag are veterans of various groups it was pretty evident the foursome is in the fledgling stages of being in a band. Timony was writing down notes and chord progressions on pieces of paper before the set and kept them next to her array of effects pedals. Brownstein also made a few comments about the newness of the band throughout the show letting everyone know it was only the band's third live performance.
Timony and Brownstein shared singing duties and each proved to be a formidable vocal force. Overall the group sounded solid all night but they didn't seem to fully click until the end of the set which included the ultra-catchy "Racehorse" followed by the equally contagious "Glass Tambourine." The refrain of the former, which features Brownstein on vocals singing "I'm a racehorse. I'm a racehorse. So put your money on me," is still stuck in my head. It was one of the few moments when Brownstein let loose as she hopped and jumped around the stage doing leg kicks during her guitar parts. Timony was almost as animated during "Glass Tamnourine" and the two guitarists played off one another well, creating a bit of delightful sonic chaos. Hopefully the kinks will get worked out of the band's live show and that chaos will be unleashed a bit more often because there's plenty of potential there with Brownstein playing off another guitarist instead of Corin Tucker's bass like she did in Sleater-Kinney.
After that powerful one-two combo of rock Brownstein addressed the crowd to introduce the final song of the main set.
"This song is called Romance. You've never heard it and we've only played it three times. That's a good combo," she said.
It was a good combo indeed and I can't wait until 2011 when I get to hear studio versions of "Romance" and the other 11 songs the band performed at the High Dive blaring from my stereo over and over again.
SET LIST
Arabesque
Endless Talk
Future Crimes
Electric Band
Short Version
Oh Yeah
Dance 2
Best Friend
Racehorse
Glass Tambourine
Dirty Water
Romace
Encore
Beast of Burden
Ask Angels