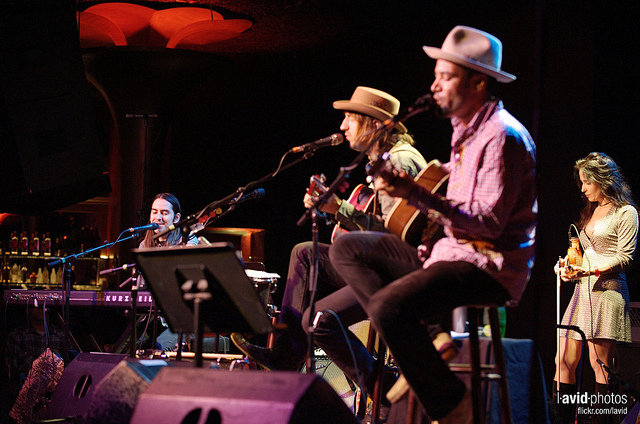 Fistful of Mercy kicked off its tour with style at Showbox at the Market Tuesday night.
The band — consisting of Ben Harper, Dhani Harrison, Joseph Arthur — covered just about every song from their debut album As I Call You Down while throwing in a few pleasant surprises during a 90-minute set. Earlier this year Fistful of Mercy made its official public debut at Easy Street Records in West Seattle so it was fitting the group started its tour at the Showbox, which was dressed to the nines for the occasion.
Instead of the typical open floor GA setup, the floor of the Showbox was littered with tables and chairs as were the bars with each table lit by a votive candle. The atmosphere classed up the already pretty classy Showbox quite a bit and gave the show an feeling of intimacy and elegance which was a perfect fit for the band's mostly acoustic brand of folk.
The three-part harmonies of Arthur, Harrison and Harper were in full effect from the beginning of the show, which started with "I Don't Want to Waste Your Time." A few songs later Bob Dylan's "Buckets of Rain," the first of several covers, made its way to the set. The other covers included PJ Harvey's "To Bring You My Love" and the Velvet Underground's "Pale Blue Eyes," both of which popped up during the encore. The latter was one of the more impressive songs of the evening. Rounding out the setlist were songs from each individual members solo careers.
The instrumentation was sparse with mostly guitars and a keyboard on stage which allowed for the harmonies to soar through the Showbox. The group was accompanied by violinist Jessy Green whose contributions helped make the Fistful material stand out from the covers and solo numbers. Her playing was definitely a subtle highlight. Other highlights included Harrison's playful and bouncy keys on "Things Go Round," which saw Harper on bass and Arthur playing a drum and a blistering lapsteel solo by Harper during "Restore Me." Continue reading →