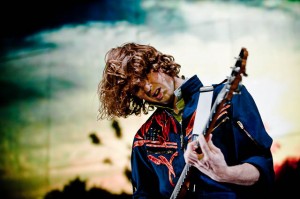 If Arcade Fire were a fast food cheeseburger the Montreal octet would definitely be a Dick's Deluxe, and in my book that's not a bad thing.
You see in the faux band-burger hierarchy three distinct categories exist. There are the McDonald's of the world. Think of them as burgers that are serviceable but can be easily replicated. In band terms acts like The New Pornographers and The Heavy fit the description. These are bands that are good live and on record, but if you see enough shows (or eat enough burgers) they don't stand out much in the long run.
Then there are the Red Mills of the world. The cream of the crop. Arguably the best fast food burger in Seattle. It's a burger you never forget. Bands like Radiohead, U2 and Springsteen are Red Mill burgers in this tasty analogy. When you witness any of these bands live it's an experience you'll remember forever no matter how many shows you attend.
Somewhere in between Redmill and McDonald's lies the Deluxe. Now the Dick's Deluxe is a damn good burger. It blows McDonald's out of the water. Anyone who attempts to argue a McD's patty is superior to anything on Dick's menu is clearly a few McNuggets short of a 10-piece.
So how does Arcade Fire merit a Dick's Deluxe rating? They put on a show you definitely remember, but it isn't necessarily the best show you will ever see. A few other burgers, um I mean bands, I'd classify as Dick's Deluxes are Muse, the Flaming Lips and my beloved Pearl Jam. These aren't the biggest bands in the world but when you see them live they deliver shows that are worth well above the price of admission.
Now I've probably seen more bands live than I've consumed burgers, and Arcade Fire's life-affirming 90-minute set made for a damn delicious burger I won't soon forget, but it wasn't quite up to Red Mill standards.
So why start off a review of a band many critics consider to be the voice of a generation by comparing them to a cheeseburger? Because many of the band's detractors claim the group takes itself too seriously and I figure a lighthearted approach would be the best route to take when attempting to tackle Arcade Fire's many complexities and my somewhat still mixed feelings about the group.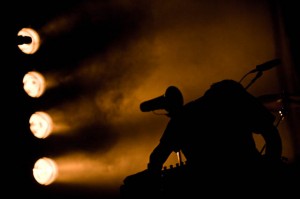 First, I must admit that I walked into the show with a rather indifferent attitude towards Arcade Fire. I own their albums and I had seen them live twice prior but I am not a member of the cult of Win Butler. Don't get me wrong, they put on great live shows (keep reading to find out more) and I enjoy the albums, but the band has received so much attention recently that it is very difficult for me to place them in the pantheon of artists who speak for a generation.
I was hoping jumping on a chance to catch the band's arena tour behind The Suburbs, an album that will likely be at the top of every critic's best-of list at the end of the year, would open my eyes so I could see what I was missing out on but that isn't quite what happened. Instead I walked out of KeyArena impressed after witnessing a great show but I wasn't fully won over and my attitude and opinions towards the band were pretty much unchanged.
The set began with "Ready to Start," off the new album, which is probably the best song from The Suburbs to kick things off given its name. Win Butler, Regine Chassagne and the six other members of the band had the 7,000 or so in attendance in the palm of their hands right from the song's opening guitar pluck. From there the rocker "Month of May," also off The Suburbs, upped the intensity tenfold and it was one of the best songs of the set. The band played that song which such passion it looked like it was the last time they were ever going to be on stage. In fact, that's how they performed every song which made for a particularly rousing show. Arcade Fire definitely doesn't lose points in the passion and intensity departments.
The occasional dual drummers, constant crazy percussion and highly energetic stage presence by every band member throughout the set meant there was always something to watch. I'd love to identify the band members by the instruments they played but that's a little difficult considering they swapped instruments too many times to count. Watching the band between songs was like watching a hockey line change with instruments (How's that for a meta Canadian simile?).
You could concentrate on the bouncy floppy-haired guitarist, or the tall, lanky red-headed guy who played guitar, accordion and I think banged a drum a couple of times. Or you could watch Chassagne who spent time behind the drums, sang and held down other duties. Anyway, you get the idea. There was lots of activity on stage and the vocalist wasn't always the center of attention. It was a refreshing change of pace compared to other arena bands where the vocalist plays the role of musical messiah.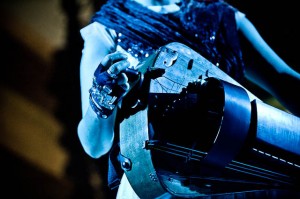 Speaking of the arena, KeyArena was about a little less than two-thirds full. The upper bowl was sealed oof as were six sections in the lower bowl. It's the biggest room Arcade Fire has played in Seattle but the band definitely has to grow a bit before it reaches category of nationwide stadium-fillers. About midway through the set Butler mentioned that the past few times his band came through town lots of people weren't able to get tickets because Arcade Fire were playing smaller rooms. He said now everybody who wanted to go to the show (and pay $40 a ticket) could.
That was the case given the size of KeyArena, however it might have been a better and more intimate show if the band did a two-night stint at the Paramount a la Vampire Weekend. Unfortunately, with a stage show that includes massive video screens and a fast-rising reputation that appears to be grooming them into untouchable indie rock icons, it looks like Arcade Fire's theater days are far behind them.
The rest of the group's set was a powerhouse of material that spanned its three albums and one EP. There were very few flaws with the only noticeable hiccup being the four-song stretch of "Modern Man," "Rococo," "The Suburbs" and " The Suburbs (continued)." The songs just didn't mesh well with the dynamic of the rest of the material in the set list. This ended up killing the momentum the band built earlier.
But other than that one minor blemish the set was peppered with multiple highlights. "No Cars Go" nearly matched the energy and intensity of "Month of May" a few songs before it. "We Used to Wait" and "Rebellion (Lies)" sounded like songs meant to be played in arenas and the encore of "Intervention" and "Wake Up" was borderline epic stuff.
So since the band performed such an undeniably powerful show, why wasn't I won over?
Well, I will say that I wanted to believe. I wanted to drink the Kool Aid. Everyone around me looked as if they were having transcendent experiences and I wanted to be a part of that club. But in the end I just found myself walking out of the Key having merely enjoyed a really, really good concert. I thought this meant the problem was me, but the more I think about it the "problem" (I use this term loosely) was Arcade Fire.
Arcade Fire is not a bad band. I'd argue they are one of the more promising young bands touring today. But I've seen bigger bands do it better and I've tasted better burgers. Or to put it more simply, this Dick's Deluxe needs a bit more mayo and relish before it can be in the same class as anything on Red Mill's menu.