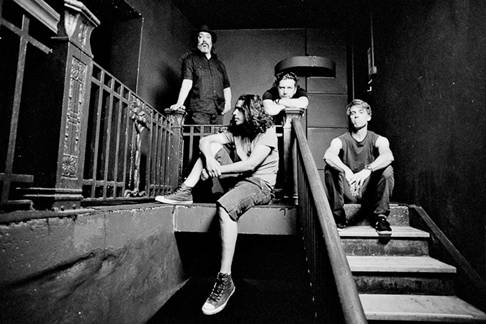 Soundgarden will release its first live album, titled "Live on I5," March 22.
The 17-track record features recordings of songs from the band's 1996 West Coast tour. The tracklist includes four songs from the band's Dec. 18, 1996 Mercer Arena show in Seattle as well as Chris Cornell performing "Black Hole Sun" solo and covers of the Beatles' "Helter Skelter" and the Stooges "Search & Destroy."
The tour was the first time the band recorded its live shows and the band rented a mobile 24-track machine/truck and recorded the gigs on two-inch tape. The band had intended to release the recordings as a live record soon after the tour, but they disbanded and the tapes were left in the closet of Studio X in Seattle (now called Bad Animals) to gather dust until now.
The band has had little activity since reuniting in 2010, playing only three reunion concerts and releasing a greatest-hits boxed set that included only one previously unreleased studio recording. Live on I5 looks to be a worthwhile purchase for anyone looking to add to their Soundgarden collection, however it is disappointing that something like this wasn't included in the Telephantasm box set since it was meant to be a career-spanning retrospective and a live album would've given fans who already own all of Soundgarden's recordings a reason to drop money on the release. There is no word on whether the band plans to tour in 2011.
Live on I5 tracklist:
1. Spoonman
2. Searching With My Good Eye Closed
3. Let Me Drown
Tracks 1-3: Recorded live at Crosby Hall, Del Mar Fairgrounds, Del Mar, CA – November 30, 1996
4. Head Down
Recorded live at Mercer Arena, Seattle, WA – December 18, 1996
5. Outshined
Recorded live at Crosby Hall, Del Mar Fairgrounds, Del Mar, CA – November 30, 1996
6. Rusty Cage
Recorded live at Pacific National Exhibition Forum, Vancouver, BC, Canada – December 7, 1996
7. Burden In My Hand
Recorded live at Salem Armory, Salem, OR – December 8, 1996
8. Helter Skelter
9. Boot Camp
Tracks 8 and 9: Recorded live at Crosby Hall, Del Mar Fairgrounds, Del Mar, CA – November 30, 1996
10. Nothing To Say
Recorded live at Mercer Arena, Seattle, WA – December 18, 1996
11. Slaves And Bulldozers
12. Dusty
13. Fell On Black Days
Tracks 11-13: Recorded live at Henry J. Kaiser Convention Center, Oakland, CA – December 5, 1996
14. Search And Destroy
Recorded live at Mercer Arena, Seattle, WA – December 18, 1996
15. Ty Cobb
Recorded live at Crosby Hall, Del Mar Fairgrounds, Del Mar, CA – November 30, 1996
16. Black Hole Sun
Recorded live at Mercer Arena, Seattle, WA – December 18, 1996
17. Jesus Christ Pose
Recorded live at Henry J. Kaiser Convention Center, Oakland, CA – December 5, 1996