So who is going to be at Sasquatch! this year? I have no idea, but here are a few guesses
February 15th, 2010 by travis hay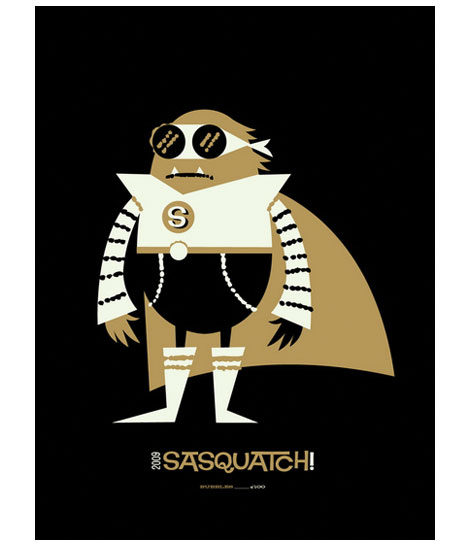 Typically by this time each year for the past few years there's a lot that's known about the lineup for the annual Sasquatch! Music Festival. As I've written about previously, that's not the case for Sasquatch! 2010. However, fortunately for those of us who are Sasquatch! nuts (like yours truly) the mystery that is the lineup of festival's ninth installment will be unveiled in less than 24 hours.
Since there is a lot known about this year's Sasquatch! I haven't been bugging bands, labels and publicists about the festival in an effort to break the lineup news like I have done in the past. I decided to leave the prediction game to the folks over at the Sasquatch! Message Board and to my buddy Dustin over at his Sasquatch! blog. But a blog with my name on it wouldn't be the same without me taking some sort of stab at predicting the Sasquatch! lineup so below is my guess at who might be at Sasquatch! 2010.
Before you go getting all excited about my prediction, please keep in mind that this is all one big guess and it's mostly a wish list of acts I would like to see at the Gorge for Sasquatch! I have no inside knowledge about the festival's lineup. Really anybody could take wild guesses at predicting the lineup this year and that is just what I did. My guess about my guess is that about half of the 75 acts I listed will actually be at Sasquatch!

To make my guess, I factored in who is touring the festival circuit, threw in some wildcard guesses and given the festival's tendency to feature Northwest artists I added about 20 local bands I think should get a shot to play Sasquatch! You'll see Mudhoney on my list (if Soundgarden is going to be one of my imaginary headliners why not have Mudhoney open for them?) as well as Thom Yorke (I know Adam Zacks has been trying to book Radiohead for years and since he's playing Coachella Thom Yorke could happen this year. And again, this is my own imaginary Sasquatch! festival) and even Devo. I almost included Shabazz Palaces too but realistically I couldn't see them playing at the Gorge. Also, I think my guess is pretty heavy on the star power so it's extremely unlikely Sasquatch! will pull so many big names this year.
Enjoy the speculation and be sure to check out the Ear Candy Twitter account where I will be sending out the names of bands performing at Sasquatch! 2010 as they are announced at tonight's Sasquatch! launch party. If you don't want to stay up late to get the scoop on Sasquatch! check back tomorrow morning and I'll have the lineup posted here.
Soundgarden/The Flaming Lips with Stardeath and White Dwarf/Pavement/Thom Yorke/LCD Soundsystem/Them Crooked Vultures/Dead Weather/Devo/New Pornographers/Sunny Day Real Estate/Mudhoney/Phoenix/Broken Social Scene/She & Him/Minus the Bear/MGMT/The Middle East/The xx/jj/Dirty Projectors/Porcupine Tree/The National/Vampire Weekend/Hot Chip/Nada Surf/The Long Winters/Wale/YACHT/Miike Snow/Neon Indian/Cymbals Eat Guitars/Japandroids/Joanna Newsome/Mayer Hawthorne/Brandi Carlile/Midlake/Temper Trap/The Thermals/Chromeo/Girls/Rogue Wave/Portugal. The Man/Atlas Sound/Bassnectar/Local Natives/Why?/Golden Triangle/Vetiver/Dum Dum Girls/The Ruby Suns/Morning Teleportation/Edward Sharpe & the Magnetic Zeros/Surfer Blood/Fresh Espresso/Moondoggies/Thee Satisfaction/Ducthess & The Duke/David Bazan/Unnatural Helpers/Visqueen/Macklemore/The Maldives/The Tea Cozies/ Throw Me The Statue/Pearly Gates Music/Grand Hallways/Phantogram/Talbot Tagora/Rocky Votolato/Pyramiddd/Jesse Sykes & the Sweet Hereafter/People Eating People/Jaguar Love/Past Lives/Wallpapaer/Hallways
Tags: Sasquatch!